Welcome to the WSS ROI Calculator
for SAP Jam!
The purpose of the WSS Return on Investment ("ROI") Calculator is to help organizations realize the economic value of implementations and adoption as well as to help accelerate how to build a business case around SAP Jam. To learn more visit our featured SAP Community Network blog: The Path to SAP Jam ROI Success.
Click "Start Here" to access the ROI Calculator.
To begin using this tool consider your audience (i.e. customers, employees, partners, and other internal/external stakeholders) and the impact of the following:
Finding the right information
Searching for but not finding information
Realizing information is in disparate locations vs. a central hub
Receiving unfiltered information (including spam)
Finding the wrong information
Reworking unfound or wrong information
And many other "Business Driver" considerations
Each of these items above impact Time, Money, and Volume. How does this affect your business goals & objectives?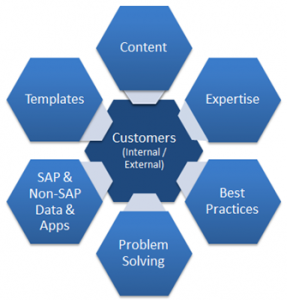 Only SAP Jam is aligned to the SAP roadmap with other SAP industries, products, solutions, and 3rd party data and applications.
SAP Jam allows you to "Simplify" and realize the value of Work Patterns ("Business Processes") which connect people, processes, data, and applications (right hand diagram).
So let's take the next step of the journey. View the WSS ROI Calculator for SAP Jam today.